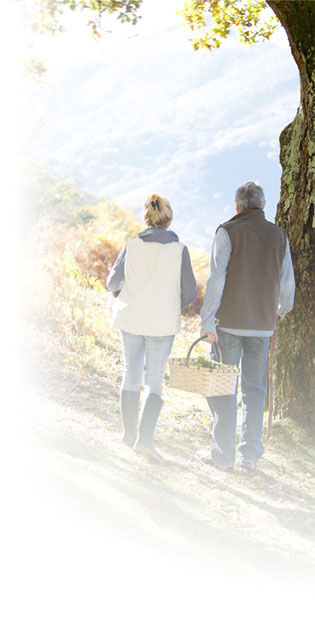 The Tomorrow's World website, telecast, magazine and all other materials are offered to the public at no charge. Viewers and subscribers are never asked to pay for our materials, which are made possible by the tithes and offerings of Living Church of God members and by others who have chosen to become co-workers in proclaiming Christ's true gospel to all nations. Their donations are gratefully accepted and much appreciated. Because more and more people are helping to fund God's Work through estate planning, we receive inquiries regarding estate gifts.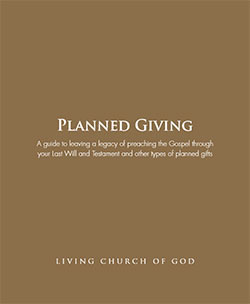 READ NOW (HTML) DOWNLOAD (PDF)
Planned Giving makes every dollar go further, and after making appropriate provision for family members, charitable donations are often included in a person's estate. Supporting God's Work through your estate is one of the most effective ways to ensure that we can carry on the preaching of Christ's true gospel of the Kingdom of God into the future through the Tomorrow's World telecast and publications.
If you are considering Planned Giving, the Living Church of God can provide information to help you and your personal advisor designate a gift that meets your charitable and financial goals.
Three easy giving options include bequests from wills, retirement plan assets (such as IRA, 401(k) or other plans) and life insurance policies. It may simply be a matter of designating the Church as a beneficiary. To receive our packet of information on making a planned gift, please contact our Legal Affairs office at our Charlotte, NC headquarters:
Living Church of God 
Legal Affairs 
2301 Crown Centre DR 
Charlotte, NC 28227 
Email: [email protected] 
Phone: (704) 844-1970
If communicating by email, please identify your country of residence. As the laws of different countries vary widely, most of the information available through Legal Affairs will only apply to the United States. However, Legal Affairs will furnish as much information as it has.
To ensure your wishes are carried out, the Church office nearest you should be designated in your gift using its complete registered name and address. For example, for gifts in the United States, this would be: Living Church of God (International), Inc., 2301 Crown Centre Drive, Charlotte, NC 28227, tax I.D. number, 33-0831039. The Church's Planned Giving Packet will include the complete registered names and addresses of the Church offices around the world.
We are very grateful to God for all He has done for His work over the years through the Planned Giving of members and co-workers.